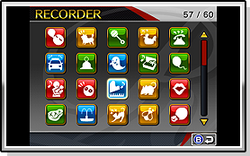 There are sixty
Sounds
that can be recorded in
Rhythm Thief & the Emperor's Treasure
. The player can add them to the recorder menu by tapping that sound on the screen. These sounds can also be used to solve puzzles or complete the
Master Instrument
. Unlike
Phantom Notes
or
Sound Disks
, some sounds that are not needed for the Master Instrument are permanently miss-able.
The sounds are arranged in the recorder menu as shown below. The location is listed beneath them. Sounds found in multiple locations can be recorded from any of them.
Snore
The Louvre, French Paintings (From Joseph)
Bulldog
Place de la Concorde (From Sapphire)
Rattle
Rue des Archives
Rooster
The Market
Phone
Paris Archives
Police Car
Rue Danielle Casanova
Doorbell
Paris Opéra, Entry Hall
Ghost
Paris Opéra, Foyer
Music Box
St. Louré Convent
Balloon
Place Henri-Mondor
Lullaby
Paris Archives (From Céline)
Warning Sound
The Louvre, Egyptian Sculpture (From Grenier)
Piano
Palace of Versailles, Reception Gallery
Mouse
Place Vendôme
Kiss
Petit Pont (From Brigitte)
Cooking
The Market (From Laurent)
Fountain
Place de la Concorde and St. Louré Convent
Cat
Place Vendôme
Fly
Rue Rambuteau
Cough
Notre Dame Cathedral (From Hubert)
Bumblebee
Les Invalides
Yawn
Paris Archives (From Vanessa)
Bicycle
Musée d'Orsay Station
Wine Bottle
Paris Opéra, Members' Hall and The Market
Bell
The Sorbonne
Chick
Petit Pont
Horse
Rue des Francs-Bourgeois
Camera
Rue de Conti (From Colette)
Bus
Hôtel de Cillon and Arc de Triomphe
Tummy Growl
Elisabeth's Manse (From Barbara)
Pigeon
The Louvre
Trash Can
Constabulary Back Door
Cash Register
École Militaire
Lawn Mower
The Eiffel Tower
Airplane
Champ de Mars
Alarm
The Louvre, Venus de Milo Exhibit
Torch
The Chevaliers' Hideout
Harp
Paris Opéra, Salon
Sneeze
FDR Avenue; Hôtel de Cillon; Place Henri-Mondor; The Louvre, Denon Wing (From Daniel)
Glass
Palace of Versailles, Battle Gallery
Owl
FDR Station
Frog
Crash Site
Crow
Elisabeth's Manse
Saxophone
Place Saint-Pierre
Pipe Organ
Palace of Versailles, Chapel Court
Clock
Palace of Versailles, Dining Room
Water Drop
Les Invalides Subterrane
Ball
Behind Les Invalides (From Urbain)
Dinosaur
Art Shop
Duck
Champ de Mars
Merry-Go Round
Tuileries Garden and Place Saint-Pierre
Accordion
Palace of Versailles, Gallery of Angels
Trumpet
Palace of Versailles, Princes' Court
Gun
Elisabeth's Room
Bat
Flea Market
Violin
Raphael's Room
Petit Train
Place Saint-Pierre
Ship
The Seine
Flatulence
Place Vendôme (From Cedric)
Whistle
Palace of Versailles, Entry Hall (From Victor)
On the recorder menu, Rue des Archives is misspelled as "Rue de Archives" underneath the Rattle sound. The Paris Opéra is also missing its accent in the Doorbell's description.
Ad blocker interference detected!
Wikia is a free-to-use site that makes money from advertising. We have a modified experience for viewers using ad blockers

Wikia is not accessible if you've made further modifications. Remove the custom ad blocker rule(s) and the page will load as expected.