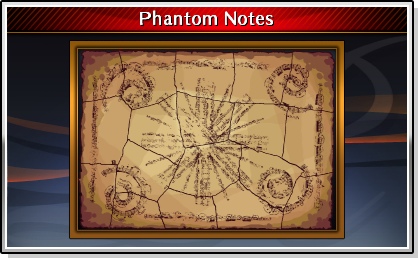 Phantom Notes
 (幻の譜面,
Maboroshi no Fumen
) are collectible items found in
Rhythm Thief and the Emperor's Treasure
. They can be found in groups of five when tapping around. The player must tap all five of the notes in a certain area to collect the full piece of the Phantom Note. The five notes when tapped are heard in a "do-re-mi" scale.
There are 18 Phantom Notes total. After the player collects all 18 pieces, they can speak to Charles to unlock the bonus chapter "Marie's Test," which leads to the minigame Phantom Notes.
Please note that notes 1, 5, 6, 9, 10, 11, 16, and 17 will not be available after appearing in their respective chapters. Thus, one can buy these at Shop Auban for 10 medals.
Ad blocker interference detected!
Wikia is a free-to-use site that makes money from advertising. We have a modified experience for viewers using ad blockers

Wikia is not accessible if you've made further modifications. Remove the custom ad blocker rule(s) and the page will load as expected.