The Flea Market is a location used in Rhythm Thief & the Emperor's Treasure. It can be travelled to from the
Musée d'Orsay Station
location. In this location there are two shops that the player can access.
The two shops the player can access are Shop Auban and 'Master Instrument Shop (RENNE?)'. Shop Auban is run by Auban and here the player is able to exchange medals to unlock missed Minigames or parts of the Gallery (such as Movies or Audio). RENNE is run by Bernard, who is trying to complete the Master Instrument, for whom the player must collect sounds.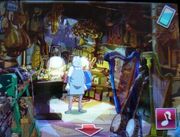 Ad blocker interference detected!
Wikia is a free-to-use site that makes money from advertising. We have a modified experience for viewers using ad blockers

Wikia is not accessible if you've made further modifications. Remove the custom ad blocker rule(s) and the page will load as expected.